Sorry we haven't posted anything in a few days we've been a little preoccupied but now we're back! The main reason there haven't been any new posts is that I just got a new computer for the first time in 6 years! The crossover to Windows 8 has kept me pretty busy but I think I've finally got it figured out enough to be fairly efficient! My new computer is a Dell Inspiron 15, and the new 15.6" screen looks huge compared to my old one. Though I think the main difference is my old laptop was a square screen and this is more of a rectangle. Here's what it looks like!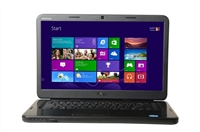 I'm also excited to say that I should recieve a drawing tablet in the mail today, so hopefully some time soon I can really start to implement the "Artsy Mama" part of our name into the actual blog!
Miss Annabelle is doing great! She is literally RUNNING everywhere! She also has her Cardiologist check-in in a few days, so look out for the post covering that.